Welcome
Delivery time currently 15 working days
Délai de livraison actuellement 15 jours ouvrables
Items cannot be exchanged as they have been printed
Les articles ne peuvent être échangés tels qu'ils ont été imprimés.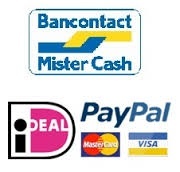 À l'attention des parents d'élèves de l'École européenne
To the parents of the pupils of the European school
Aan de ouders van de leerlingen van de Europese school
An die Eltern der Schüler der Europashule
Chers parents,
Vous êtes cordialement invités à découvrir les nouvelles tenues vestimentaires pour les cours d'éducation physique.
Etant donné qu'il s'agit d'une prévente, les articles seront livrés a Bpost. La tenue se compose des pièces suivantes, présentant le logo de l'école. Le nom est facultatif. Pour plus d'information, suivez le lien sur la page web de l'école: http://www.eeb3.eu/ ou jakosportshop@tretton.eu ou Patrick Branders 0475/53.90.69

Dear parents,
You are cordially invited to discover the new outfits for the physical education classes.
Since this is a pre-sale, the clothing will be delivered by Bpost. The outfit consists of various articles bearing the logo of the school. Optional the child's name can be added. For more information, go to the link on the school website: http://www.eeb3.eu/ or jakosportshop@tretton.eu or Patrick Branders 0475/53.90.69

Beste ouders,
Hierbij nodigen wij u uit om de nieuwe kleding voor de lessen lichamelijke opvoeding te ontdekken.
Aangezien het hier een voorverkoop betreft, zal de kleding geleverd worden door Bpost. De outfit omvat de volgende artikelen, inclusief het logo van de school. De naam is optioneel. Voor meer informatie, volg de link op de website van de school: http://www.eeb3.eu/ of jakosportshop@tretton.eu of Patrick Branders 0475/53.90.69

Liebe Eltern,
Wir laden Sie herzlich zum Vorverkauf der neuen Outfits für den Sportunterricht ein. Alle Artikel sind ab Bpost lieferbar. Das Outfit besteht aus mehreren Artikeln, die mit dem Logo der Schule versehen sind. Zusätzlich besteht die Option den Namen des Kindes anzubringen. Weitere Informationen finden Sie unter folgendem Link auf der Schulwebsite: http://www.eeb3.eu/ oder jakosportshop@tretton.eu oder Patrick Branders 0475/53.90.69
Shopping cart
No items in shopping cart.